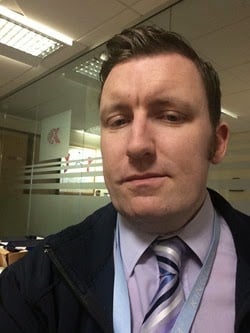 Kingdom is delighted to welcome Mark P Wallace to the company as the new Operations Manager for Wales (not to be confused with our Mark Wallace, Director)!
Mark has many years experience working in security, which started when he joined the Cheshire Regiment at the age of 16. He very much enjoyed his time in the army, where he gained a wealth of experience and also got to travel the world. His most interesting job role during his time in the army was in the ISTAR (Intelligence, Surveillance, Target Acquisition and Reconnaissance) Platoon in Basra in Iraq in 2004. Mark was awarded two medals for his service in Iraq and Northern Ireland. He was also presented with a Good Citizens Award for rescuing a girl from a car that had crashed into a river in 1998.
Mark left the army in 2006 and moved to Dublin in Ireland. He took up his first position there as a security officer working for a rail and transport specialist security company. He was quickly promoted to area supervisor, and then left after a year with the company when an opportunity came up to work for the biggest privately owned security company in Ireland in their ARC (Alarm Receiving Centre). Mark was once again promoted within a year, this time to the position of Assistant Operations Manager.
After the Irish economy took a nose dive in 2011, Mark moved back to the UK and settled in South Wales. He got a position as Operations Manager with a security company there, where he excelled in the areas of customer relations, security planning for events, and sales. In 2014 he was promoted to Account Manager. He now relishes the new opportunity that he has been given by Kingdom, and would very much like to thank all of the Kingdom family for their very warm welcome to the team. He looks forward to a very long and prosperous career with the company.
Outside of work, Mark is very much a family man. His brother in law is a BAFTA award winning director for the film East is East. He also has a love of photography, and has had a couple of photographs printed in newspapers.
Welcome to Kingdom, Mark!