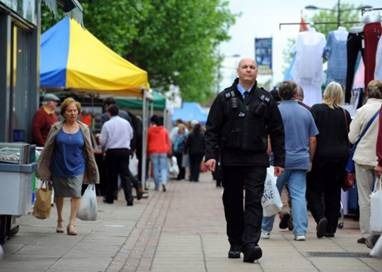 Kingdom started providing Environmental Protection services in East Hampshire on behalf of East Hampshire District Council on Monday 18th May.
A recent article in local newspaper The News entitled "Clampdown on litter launched as officers hit the streets in East Hampshire" announced the start of the Kingdom's work, saying:
"Litter louts have been warned they will pay the price if enforcement officers catch them dropping rubbish.
"Officers from private firm Kingdom have completed their full first day on the streets of Horndean after the local authority brought them in following their work in Havant.
"East Hampshire District Council has begun a zero-tolerance campaign against people who drop chewing gum or cigarette butts, or don't clean up after their dog.
"If caught they run the risk of a £75 fine. And if they do not pay it they will be taken to court. More than 3,000 fines were handed out in the first year in action in Havant – reducing the council's street cleaning bill."
Kingdom's officers will be providing services across the district, but will be focusing on the worst affected areas. They will be uniformed with the council's livery and carry official ID. Residents who would like to report any littering issues to the council or who have identified a litter hot spot can call the council's litter line on 01730 234131 and officers will visit that area.
The council has said that the six-month pilot has been launched to reduce litter in the district and that there is no expectation that it will generate a profit. However, they have said that any money that is made from the new scheme will be put directly back into public services. Commenting on the campaign, Cllr Richard Millard, deputy leader of East Hampshire County Council, said:
'Litter in East Hampshire is a big issue for all of us and has been at the forefront of our minds in recent weeks. Our environmental team works hard to collect the litter which blights our streets, parks and countryside – but as with many things prevention is better than the cure. This new campaign means that if people are caught dropping litter, such as cigarette butts and chewing gum, or allowing their dog to foul, then they will be fined. We hope people will think twice before they drop litter and that will help us all keep the district clean and clear.'
When the campaign was announced earlier in the year, Cllr Millard said: 'People who deliberately or even unthinkingly drop litter or allow their dogs to foul pavements and public open spaces are a blight on all our lives. This policy is aimed at stopping this public nuisance.'
Kingdom has been providing environmental protection services to nearby Havant Borough Council since May last year. This was mentioned in the article in The News, which said: "The introduction of Kingdom enforcement officers in Horndean follows Havant Borough Council's use of the firm in its area. Last May the council employed the private firm to prosecute litter bugs. More than 4,000 fines have been handed out since the scheme was launched."
Kingdom's Environmental Protection Division is led by experts with an ex-police and military background who deliver over 130,000 environmental protection hours per annum on behalf of local authorities. Kingdom's officers issue fixed penalty notices (FPNs) to offenders who are seen breaking the Environmental Protection Act 1990 in streets, parks and open spaces, therefore successfully reducing anti-social behaviour.
Kingdom's Environmental Protection Division tackles street litter, dog fouling and control orders, commercial and residential waste, waste disposal licence checks, smoking in prohibited areas, the illegal distribution of free material, criminal damage, graffiti and fly-tipping & posting. For more information about Kingdom's environmental protection services, please call 0845 051 7702 or visit http://www.kingdom.co.uk/services/environmental-protection/