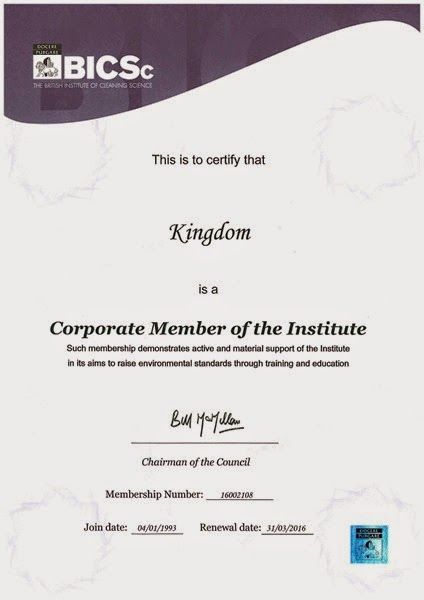 Kingdom is pleased to have renewed its membership of the the British Institute of Cleaning Science (BICSc). The BICSc is the largest independent, professional and educational body within the cleaning industry, with over 10,000 individual and corporate members in the UK and internationally.
Formed in 1961 by a group of like-minded individuals seeking to give the cleaning industry recognition, the BICSc's mission is to "raise the status and standards of the cleaning industry, through education and accredited training."
The BICSc is the leading provider in educational accredited standards and qualifications within the cleaning industry. Membership of the BICSc is recognised throughout the cleaning industry and demonstrates active and material support of the Institute in its aims to raise environmental standards through training and education. In many cases, membership of the Institute is a necessity when applying for jobs or tenders.
Being a member of the BICSc offers a range of benefits to cleaning industry professionals, including the chance to prove skills, education or industry experience via professional certificates, the opportunity to network with other members and access to information resources, guidance and help.
Kingdom delivers a supervisor or site-managed commercial cleaning and maintenance service committed to using the best people, technologies and products. All of Kingdom's people are trained not just in cleaning techniques and technology, but also in Health and Safety, and the importance of environmental issues. They add value by taking a pro-active stance towards site cleanliness and tidiness. They also advise on ways to cut cost, what tasks can be reduced, what time of day is cheaper or how to reduce electricity consumption or CO2 emissions when cleaning. For more information about Kingdom's Cleaning Division, please visit http://www.kingdom.co.uk/services/commercial-cleaning/ or call 0845 051 7702 for an immediate quote.
Kingdom remains steadfast in its "commitment to quality" (C2Q) by embracing five key components: Safety, Health, Environment, Service and Outcomes. As a supplier to brand focused customers, Kingdom's investment and dedication to quality and safety is taken extremely seriously. They regularly access experts in their field to openly audit and challenge them, and when they do it well, recognition follows. To find out more, please visit http://www.kingdom.co.uk/profile/quality-industry-recognition-safety-environmental/